DropTools Palette
Makes using and distributing custom controls a breeze
---
The DropTools Palette is a free LiveCode utility that lets you drag and drop custom controls directly to your stacks, automatically installing any necessary resources that it may require to operate properly.
A specially designed custom control stack is called a "DropTool"; DropTool stack developers can choose to add built in "about" information, or even a custom "inspector" to manipulate the control once it has been dropped onto a stack.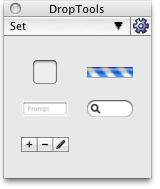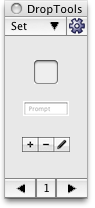 (Version 1.3) |

Download |

Download (Community)
Do you use Dropbox?
You can store your DropTools in any location, even on Dropbox, so you can share the same custom controls among multiple computers and multiple versions of LiveCode simultaneously! (See the User Guide for more info on using Dropbox.)
What's a "Custom Control"?
A "control" is a any user interface element that you interact with, like buttons, fields, scrollbars, and so on. Pretty much anything that is the LiveCode tool palette would be a control.
A "custom control" is is a control that you (or another developer) creates out of built-in LiveCode controls that has unique functionality. The best example of this is the DataGrid, but things like a date picker, or a field that automatically validates data entry would be good examples of custom controls.
Why Was DropTools Developed?
The DropTools Palette was designed to address three unique situations in the LiveCode development community:
Problem: Incorporating another developer's control requires a lot of steps or can be complicated.



Custom controls come in a number of different forms, depending on how the developer has chosen to create them:

Prescripted: The control has all the code built into it and is self-contained. This is the easiest to use because all it requires is copying the control to the place where you want to use it.
Behavior-Based: The control has little/no code of its own, but the scripts that drive it are located in a behavior button. Using these requires not only copying the control itself, but also the behavior button into your stack (or you may need to incorporate a stack that has the behavior button on it into your own application); sometimes you may even need to reassign the behavior to the control after you've copied it, since the behavior "path" is linked to a specific stack name.
Library-Based: The control has little/no code of its own; the code that drives it is in a library stack. Using this kind of control requires not only copying over the control, but moving the library stack to a place in your development folder structure and then executing a 'start using' on it to make the scripts available.
Other: Some controls have a mixture of prescripted/behavior/library implementations and may require even more complicated installation mechanisms like copying one or more objects/cards/stacks into your application.

Compounding all of this is the problem of resolving images that are used by a custom control, since LiveCode will automatically change the ID of images that are copied from one stack to another. So any images needed inside the control will have their IDs change (messing up buttons that refer to those images for icons, etc.).

Solution: The DropTools Palette solves this problem by doing all the grunt work for you; all you need to do is drag and drop the control to your stack and any and all behaviors, images, libraries, or other resources are copied in automatically!

---

Problem: I need a custom control, but don't know where to go to find out what custom controls have been made.

If you've hit this problem yourself, you know what happens next: you either ask someone on the LiveCode list or forums and hope that someone has an answer for you, or you visit a whole bunch of sites of prominent LiveCode developers hoping to find the control you're looking for, or you just decide to redesign your project so avoid needing a custom control at all. (This is very frustrating, obviously.)

Solution: The intention of this site is to be an aggregator for everyone in the LiveCode community that has created a custom control, whether or not it has been designed to work with the DropTools Palette or not. The All DropTools link in the header bar will show you all the custom controls that have been modified to work with the DropTools Palette, and the Other Controls link will show you a list of other third party custom controls.

In either case, you'll be able to review, download, or purchase any available custom control, whether it comes from this site or the custom control author's site.

---

Problem: I have my own custom controls that I'd love for others to be able to use, but I don't have the time (or don't want) to write up installation documentation, etc.



Solution: DropTools makes it easy for you to distribute your custom controls in a simple, standardized form. Depending on how complicated your control is and how many features you want to offer to others, it can be as simple as copying your control onto a stack, giving the control and the stack a name, and then that's it!

To find out more, visit the Developer Info section.
Version History
To update to the newest version, click on the "gear" symbol to open the Preferences/About dialog, click on the "About DropTools" tab, then click "Check for Update".
Version
Release Date
What's Changed
1.3
06-04-2012

Fixed bug where secured DropTools would generate an error when the DropTools Palette tried to load a custom icon.

1.2.1
05-10-2012

Added version number to dropped controls to support future version control.
Added support for concurrent use of DropTools in both LiveCode 5.5 as well as earier versions of LC. (Prefs are saved in 2.7 format.)

1.2
09-12-2011

Added "Show Inspector after dropping control" preference
Improved integration with LiveCode IDE.
Added ability to option-double-click a control with the pointer tool to show the Inspector (if there is one)
Added DropTools menu options to bottom of contextual menu in LiveCode IDE.
Fixed bug where multiple copies of some DropTool control icons were being created and stored in the DropTools palette.

1.1
07-03-2011

Optimized the loading/display of DropTools by not reloading images on every launch
Optimized the storing of the DropTools palette location (removes sluggish response when initially dragging the palette)
Added API calls for DropTools_VersionCheck, and DropTools_TruncID().
Will automatically disable DropTool icons in the DropTools Palette if DropTools_VersionCheck is executed and the DropTools Palette is older than the version provided.
Folders in the "DropTools" folder that start with "(" will be ignored (so they can be used as support for specific DropTools).

1.0.2
06-25-2011
Fixed bug where the palette would move to a default locaton when the DropTools Preferences window was closed.
1.0.1
06-16-2011

Added API calls for DropTools_PurgeStack, DropTools_OpenCentered, and DropTools_CloseCentered.
Changed the wording of the "you need to have a library installed" dialog to make it clearer what is required from the user.

1.0
06-05-2011
First public version.